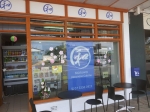 6 Corrie Street, Chermside, Queensland, Australia
A great little new addition to the Brisbane cafe/restaurant/Japanese goods scene in the northern suburbs in Brisbane.
Opened in September 2014 in Chermside, Maruwa offers a great selection of Japanese cafe food – for either local dining (limited)  or takeaway – including ramen, curry, donburi, gyoza, and some great sushi party platters ( give a days notice for pick-up…)
This small space also stocks a surprisingly-large range of Japanese staple products – soy sauce, Kewpie mayonnaise, Japanese curry sauces, snacks, drinks and a good range of Japanese confectionery, including the famous Japanese Green-Tea Kit Kats.
25-35 Rotherham St, Kangaroo Point, Queensland, Australia
Mitoki is an absolute gem of a Japanese restaurant that can be found tucked alongside the Story Bridge in Kangaroo Point and whose house specialty is modern Japanese tapas.
Dining is on a fairy and paper lantern lit open sided terrace (with roll down blinds for protection from the elements) at black clothed tables adorned with miniature flower pots and ordering is done electronically via i-pad menus.
The tapas menu is an eclectic and extensive mix of Japanese meets Western delicacies: think beef gristle and potato croquets, sweet chilli chicken karaage, natto gyoza, tempura cheese Japanese fondue style, groper carpaccio and wasabi wedges and the deliciousness continues to the rest of the menu, which includes sushi, sashimi, rice and noodle dishes, mains of teriyaki or tempura and good value lunch time bento boxes.
3/53 Lytton Road, East Brisbane, Queensland, Australia
Sushi Kotobuki
Tucked away on Lytton Road is hidden gem Kotobuki.
Each foodstuff created combines fresh fish, carefully cooked rice, expert knife work and the warm hospitality of Japanese chefs.
A selection of sushi is accompanied by wasabi, soy and some are served with an accoutrement of ginger and mayonnaise. Each dish is arranged on Japanese pottery like a piece of art.
Try the Dragon Roll – a combination of avocado, cucumber and cream cheese topped with grilled eel with a serve of teriyaki sauce.