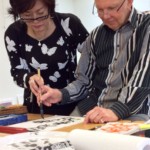 3/162 Petrie Terrace. Brisbane. Qld.
Yumiko Kigoshi
Yumiko has been living in Brisbane in beautiful Queensland – Australia for the past 37 years.
She is a member of the International Sumi-E Association and has studied Sumi-E for over 10 years.
She is also a master practitioner of Shodo  (Japanese Caligraphy) with in excess of 18 years experience.
37 Cordelia Street, South Brisbane, Queensland, Australia
Mabina Alaka is an accessory artist.
She was born in Kobe, Japan, lived in Canada, United Kingdom and now calls Brisbane her home.
Mabina's artistic talent comes from her Japanese heritage and creating unique fashion accessories reflecting the beauty, colours and heritage of Japan is her passion.
From her studio in Brisbane, Mabina uses Japanese Yuzen papers, antique Kimono fabrics, Japanese cotton fabrics and beads to bring her collection to life. Added Swarovski crystals, Chezch beads and beads sourced from all over the world makes Mabina's collection unique. The beauty in her earrings, necklaces, rings, brooches and hair ornaments are the reflection of her understanding of every aspect of design.
Mabina travels to Japan on a regular basis to source new material to keep her one off designs up-to-date and innovative.
Mabina also has a degree in Interior Design and works in the industry which enables her to see outside the square in creating her collection.